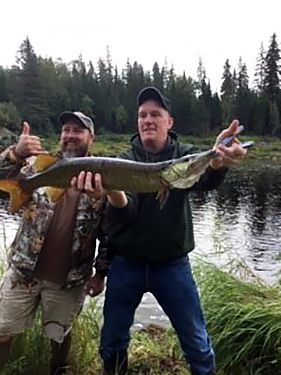 Brace yourself for a wilderness fishing adventure in Northern Maine! Muskellunge (Muskie for short) , or as we like to call them "Wolves of the Waterways", are quickly becoming an established game fish in the rivers running through the North Maine Woods. If you like a fierce striking, hard running, acrobatic fighting fish, then this is the species for you.
This species was introduced into Lac Frontier in Quebec, Canada back in the early 70's and has now made its way down to the St. John Watershed coursing through the North Maine Woods wilderness. Many sportsmen are dismayed by this development as it is impacting the Trout fisheries that this region is famous for, but there is no denying the enjoyment that can be found from the tremendous fights that these fish can put up. These fish have attained and are sustaining not only a stable, but plentiful population in the waters of Northern Maine. The roots of these toothy fish run deep in these hard to reach waters, but we have been providing highly successful guided trips for more than a decade now.
Guide Service

Book a guided fishing adventure with Master Maine Guide Bill Orne for your never forgettable allagash adventure! Excursions are planned throughout different areas of the St. John watershed, and are based out of Chemquasabamticook Lodge at Ross Lake Camps located deep within the North Maine Woods. You will be fishing out of a 12 foot Starcraft aluminum boat. Only top of the line tackle is used to include Shimano, Fin-nor, and Star rods and reels.
Maine does not currently have any size or bag limits set on these fish since they were not a planned introduction. Muskie's do provide excellent table fare, and our clients are more than welcome to take a fish to eat or for a trophy, but we recognize this species as a sport fish and will encourage catch and release to ensure a strong future for generations to come. Besides, they are way too much fun to only catch once! Our fish average a length of 29 – 36 inches with weights of 6 – 14 pounds. Bigger fish are not uncommon, and there is the possibility of your very own state record around every bend!
Guided Muskie Adventures
3 Night, 2 Day fully guided Muskie adventure $1,000.00

Trips are for 1 or 2 guests arriving at Ross Lake Camps in the afternoon. The evening meal will be served in the Lodge at 6pm, and afterwards fishermen can retire to a private lakeside cabin for a good nights sleep. Breakfast is served very early the next morning, immediately followed by departure for the river boat launch. Lunch will be provided by your guide during your 8 hour fishing day (8 hours on the water).
Be sure to bring a good camera with you as there is abundant wildlife viewing all along the river. Moose, Deer, Black Bears, Beavers, Bald Eagles, and a variety of Duck species make frequent appearances in the sky and on the banks of the waterways. Dinner will be served upon your arrival back at the Lodge, and this schedule will be repeated again the following day. Breakfast will be served prior to your departure on the third morning.

• All lodging, meals, transportation after arrival, fishing equipment, terminal tackle, and guide service is included in the price of the trip.
• Clients are responsible to have their fishing licenses before arrival at the camp.
• A day of guided fishing for Lake Trout, Brook Trout, and Whitefish on Ross Lake may be substituted for one or both days of Muskie fishing.
• Any Custom trip can be arranged upon request