Ross Lake Camps has exclusive rights to a vast bear hunting area to assure you get a truly private hunt.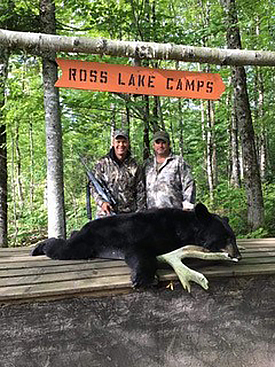 Ross Lake Camps boasts a very large bear hunting area. We maintain exclusive baiting rights to approximately 360 square miles of vast wilderness to assure our guests of a truly private hunt.

We currently have 120 bait sites and use roughly 100 each yr, but limit the amount of hunters we take to a MAX of 66. This allows us to move hunters between sites in case there is an abundance of natural food in a given area, or if the hunter is only seeing a sow with cubs.

Any Black Bear is legal to harvest, but we encourage our hunters not to shoot cubs or a sow with cubs in tow. Bears in our area are plentiful, and the chances of taking an above average size bear on any of our sites is very good.

The majority of our stands are set up for a shot ranging from 20 – 45 yards. We utilize 12 & 15 foot ladder stands and natural built and some tent blinds.

Bow hunters may bring a lock on tree stand or a climbing stand with them. Rifle, shotgun, bow, crossbow, and muzzleloader are all acceptable methods to take your bear. Weapons designed for personal protection are NOT acceptable.

Adult bears in our area range from 75 to 400lbs. Approximately 40% of ours will weigh in at 210 pounds or better.

All sites are within a one hour drive from your cabin door. We provide a fully guided hunt to include all lodging, 3 meals daily, guide service, trophy recovery, field dressing, skinning, quartering and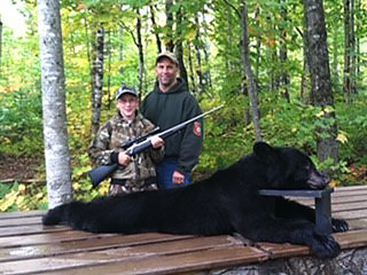 freezing. We also can help with taxidermy if required.

Hunts are scheduled for arrival Sunday afternoon with the first meal served at 6:00pm that evening, and departure the following Saturday morning after breakfast. References can be provided upon request.

Click here to visit our photo gallery and see photos of past bear seasons at Ross Lake Camps.