Ross Lake Camps is a remote but comfortable Maine hunting camp in the North Maine Woods just west of the Allegash Waterway Region. It is a place that few people ever travel to which makes it ideal for black bear hunting, moose hunting, fishing and snowmobiling.

Maine bear and deer hunting in our area is unsurpassed. There is little to no pressure on the area and with thousands of acres to hunt on, we generally have a great success rate in getting you close to your trophy bear or whitetail deer. Many of the whitetail deer are larger and even though there are not as many deer as may be in other areas, they are all bruisers.

The country here is very big, and the woods very thick, but if you are an experienced hunter in search of a true trophy whitetail, this is an excellent place to test your skills. What we lack in pure numbers of deer is more than made up for in our black bear population, which season is open for during the same time as deer.

Our Maine hunting camp at Ross Lake is very comfortable and we offer lodging with or without meals included. Our cabins are spacious and have cooking facilities. They are situated around the center of the camp area and all have a view of the lake.



Black bear hunting in MaineMaine black bear hunting over bait is one of our most popular guided hunting trips at Ross Lake Camps. We have exclusive rights to 144 square miles of vast wilderness for black bear hunting. We maintain 60 bait sites and keep our bear hunter limit to 40-46 per season to allow our hunters to move between sites when need be. Sometimes there may be an abundance of natural foods in one area for the bears so we relocate to another bait area. We provide guided bear hunting and transportation to and from the bait sites.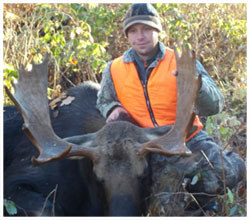 Moose, moose, and more moose! That's what we have here in the Ross Lake Area. We are the ONLY lodging facility this deep in the North Maine Woods. We are located in zone 4, but are also central to zones 1, 2, & 5.

Large bulls are frequently seen in the surrounding areas, and due the remote location of our camps, we are subject to the least amount of hunting pressure in the state of Maine.

Come to the wilderness and make your once in a lifetime moose hunt truly an adventure to be remembered.

We offer a professional Maine moose hunting guide trip which includes your hunting, meals and lodging. Inquire about our Moose Hunting for our lucky Maine moose lottery winners.

Open water fishing at Ross Lake is a virtually untapped resource due to the remote location of the lake. The only fish ever stocked in this lake were smelt back in the 1950's, and all species are 100% naturally reproducing. This Lake has been fished by many world renowned fly fishermen, including Ted Williams.

If you are tired of fishing on a lake that is covered with people you owe it to yourself to make a trip to the middle of nowhere. During the week it is common to be the only people fishing and the weekends might have 5 groups spread out over 3000 acres of frozen water. You will not have people racing snowmobiles trucks or four wheelers between your traps, everyone is here to fish and will respect other anglers.