Lake Fishing and Ice Fishing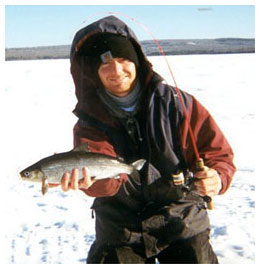 Open water fishing at Ross Lake is a virtually untapped resource due to the remote location of the lake. The only fish ever stocked in this lake were smelt back in the 1950's, and all species are 100% naturally reproducing.

Ross has a great population of Lake Whitefish which are normally easily taken trolling small lures and flies either on lead core line, sinking fly line, or by using a downrigger. Besides being tremendous table fare, they are a spirited fish that put up quite a fight. Togue in Ross Lake are fat and of a dark chocolate coloration prevalent to many of the stained lakes in the Alagash region. These fish feed heavily on the huge population of smelt in Ross Lake. Lures and flies that closely imitate smelt are the best bet for hooking up one of these bruisers. YoZuri pin minnows and some of the slender minnow imitations are proven winners, as well as the old standbys, the Mooseluk wobbler, flashking, daredevil, and the rebel. If you have frozen smelt they always work when rigged properly, and if you like using live bait in the summer, we recommend setting a minnow trap along the shoreline to get some nice lively native minnows. Brook Trout are taken mostly near the shoreline using flies and lures, with a spinner and worm being a local favorite.

There are several streams feeding into and out of Ross Lake and all are teeming with native Brook Trout. The round Whitefish, a related species of the Lake Whitefish, can sometimes be caught in area streams as well. Chemquasabamticook Stream (AKA Ross Stream) is a blue ribbon trout stream thick with our coveted native Brook Trout. This Stream leaves Ross Lake and dumps into Clayton Lake, about 13 river miles away. It then continues to the Alagash waterway, which in the early spring, experienced canoe folk might choose to float. Later in the season, low water can reduce the float to a 4 mile section of dead water above Clayton Lake, but this area will produce great catches of 8 - 15 inch Brookies and a few of those unique round whitefish.

A mere 18 miles away from Ross Lake Camps is the famed St. John River with a very recent intruder, the toothy Muskie. A fishery that was unwanted in the area, these fish were illegally introduced into Baker Lake and have made their way all the way into the Fort Kent area. These fish are fabulous fighters and grow very large. The state record of 28 lbs has already been unofficially broken a couple of times, and is just waiting for someone to put it in the book. Some people use canoes and Kayaks to fish the river but it gets low very quickly and you need to wade or pull your canoe along. When the water is high, the fish are scattered out all over, but when the river level drops, the fish pile up under bridges and pools, and are very catch-able. These monsters are not easy to access, but will strike hard and tear off long runs. Wire leaders, heavy line, and a stout casting rod are the ticket to hold one of these big boys. We recommend large spinners, huge daredevils, striper plugs, and even jerk baits.

We open around 19th of May with housekeeping cabins and the American plan meal deal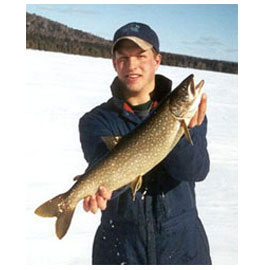 Ross Lake regulations are as follows:

Open water is April 1st until the last day of September. (Ice out isn't until about may 15th)
Length limit on Togue is 18 inches with a 1 fish limit
Length limit on trout is 12 inches and 2 fish. One of these will fall into the slot limit which means only 1 may exceed 14 inches (trophy lake).
Length limit on Whitefish is 18 inches with a 1 fish limit.
Remember, you are only allowed to have 1 days possession.
Recommended flies:
Black ghost
May flies
Gray ghost
Humpy
Joes smelt
Ants
Micky fin
Mosquitoes
Nine three
Wooly bugger
Ice Fishing at Ross Lake a true frozen treasure

Seasons and Regulations
Opens January 1st and closes March 31st and we have safe ice the entire time
Limits and size restrictions.

Togue - 1 fish 18 inches long
Brook Trout - 2 fish 12 inches only 1 may exceed 14 inches (managed for trophy squaretails
Whitefish - 1 fish - 18 inches

**remember you are only allowed to have one days possesion of fish**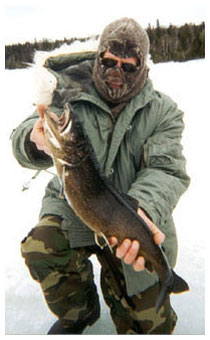 In the winter the woods roads are maintained very well because this is the time of the year that the majority of the logging is done. It is about 2 to 2.5 hours into our parking areas whether you come from Ashland or Millenocket.

We do have different directions for the winter and they will be posted on the website when I determine which roads will be plowed. If you approach Ross Lake from the southern corner it is a 4 mile snowmobile ride on a marked groomed trail we maintain for our guests. It is an 8 miles trek if you come from the north and cross the lake or up to 14 miles if you use the woods roads, we recommend the southern approach because it is safest and quickest.

If you are tired of fishing on a lake that is covered with people you owe it to yourself to make a trip to the middle of nowhere. During the week it is common to be the only people fishing and the weekends might have 5 groups spread out over 3000 acres of frozen water. You will not have people racing snowmobiles trucks or four wheelers between your traps, everyone is here to fish and will respect other anglers.

Togue are very finicky and long light leaders are the key to success they are very much trained to live on smelt. We believe that 85 percent of what these fish eat are smelt (bring smelt).

You will catch brook trout in the traditional way near the shore with worms or smelt we even get a few trout on jigs in 3 feet of water. The whitefish pretty much cover the lake bottom between 20- 30 feet of water close to the bottom if you keep catching cusk you are 1 foot too deep for whites. The key to whitefish is to get a flag and quickly land that fish and drop a jig as quick as you can, very seldom are the whites alone. If you like to fish cusk this place is loaded! They can be caught on tip-ups during the day, but many customers enjoy the night fishing. Most of our cusk are caught in less than 6 feet of water including the 7.5lb-er my wife Andrea iced a few years back.
I hope I have perked your interest in Ross Lake Camps, drop us a line at info@rosslakecamps.com and feel free to ask any questions.



Photo Gallery
Click here to visit our photo gallery and see photos of past hunting and fishing seasons at Ross Lake Camps.